Remember that pit in your stomach when someone jostled your elbow and, in a split second, a favourite outfit was condemned to never being worn again? A splash of wine, a drop of grease, a smudge of ink, and you knew it wasn't going to come clean. Did you discard it immediately, or add it to a pile of "if only…" garments – things you can't wear as is, but can't bear to give up on? Working with "if only…" garments is my specialty and this post shows one of many ways I rescue stained clothing using those stains for design inspiration.
The skirt in this example came to me with rust stains scattered across it. The gauzy material was not going to withstand heavy stain-removal tactics so the barely-worn skirt was supposedly headed for the scrap bag. Instead, I wanted to bring it back into circulation as a stronger form of itself.
My first impression of this skirt was its very feminine frilly texture. I thought that called for a soft and almost monochromatic treatment, so I went to my stash of fabric flowers and pulled out a handful of suitable pinks. Instead of using the flowers as is, I took them apart and re-combined the petals into entirely new flowers. These weren't nearly as bulky as the original flowers and their texture was enhanced.
Next, I went to my basket of embroidery floss and pulled out more pinks and some bright pollen yellows. It took no time to discard the yellows and focus on the pinks. Botanical accuracy wasn't the goal here, and the contrast was too jarring. Instead, I selected some golden glass beads to add to the flower centers. The beads would cover up the holes in the middles of the flowers, and they would hint at dew drops and pollen without clashing with the narrow colour scheme. My embellishments were ready. It was time to tackle the skirt.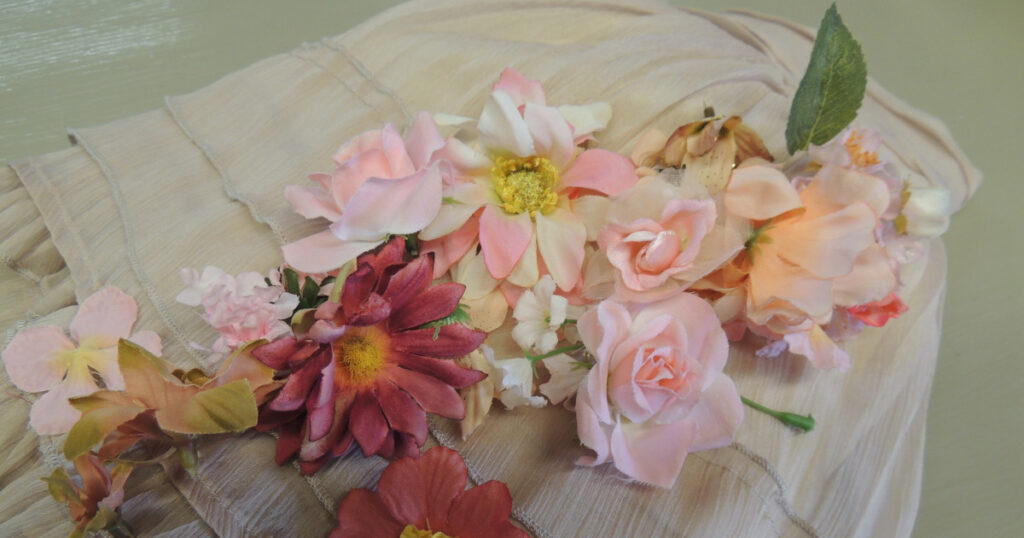 The skirt was as clean as it was going to get. I spread it out in a well-lit work area and carefully inspected it for stains and any other damage. Every spot got marked with a pair of brightly coloured pins. (Two pins so if one fell out, there was another for backup.) When all the trouble spots were pinned, I had a map for flower locations.
Every spot got covered by a flower and then more flowers were added to pull the "scattering" together. I wanted drifts of flowers, not splotches or a solid bush, so I played with the arrangement until I was happy with it. Then I pinned it securely, and put it on a mannequin so I could see how the design looked "in 3D" and from many different angles. A few adjustments, and the flowers were ready for stitching.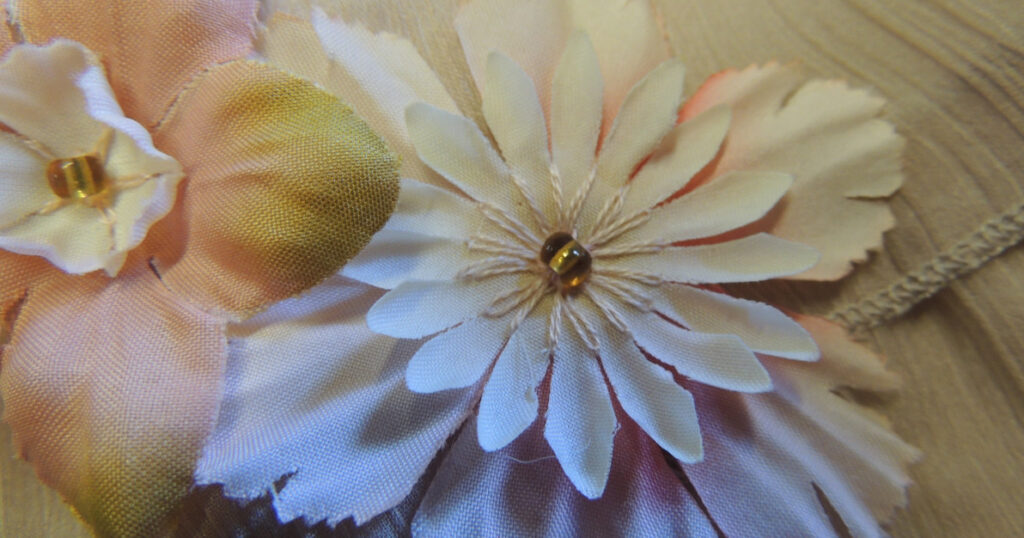 My needle needed to be sharp enough to pierce the tightly-woven flowers without pulling threads, large enough to carry several strands of embroidery floss, yet fine enough to fit through the holes in the beads. (That's why I can have twenty needles at hand and still be looking for a different one.) Every flower was attached to the skirt with a round of lazy daisy stitches topped off with a bead to cover up the hole in the middle of the petals. This left the petals free to move while adding decorative interest to their centers.
When the stitching was done, the skirt was ready to wear again, and most importantly, it was also still hand-washable. I've done some testing on the durability of fabric flowers through machine washing and drying and most of them perform very well. (I've written a separate post about that testing. You can read it here.) So the flowers could handle machine washing but the skirt itself could not. Also, cotton embroidery floss should be pre-shrunk or replaced with several strands of standard sewing thread if you are not washing by hand.
The other consideration for washability is the beads. Most glass beads can withstand a fair bit of wet and heat. Some plastic beads don't do so well with the heat of a dryer. Harsh detergents can do more damage than the water or the dryer heat, especially if metallics are involved. So if you're trying this for yourself, consider how you want to clean the garment when you are selecting what you want to decorate it with. If you want to wash and dry by machine, make a test swatch of your materials and throw it in with a few laundry loads to see how the components hold up.
This "drift of flowers" technique is very handy. You don't have to be able to draw to use it, and it doesn't have to cover a large area so it can be very quick to do. One client came to me with a velvet cape that was to be worn in a wedding just a few weeks away. The cape had arrived at her door with some black spots on it and anything we could do to remove them would mark the velvet. There wasn't enough time to get a replacement cape from the original supplier so we covered the spots with a drift of flowers. Not only was it a quick fix, but the client decided she liked the new version better than the original.
So if you're looking for an easily adaptable way to disguise a spattered stain, you might consider "planting" flowers.